Ignoring the Warning Signs
If a person tells you something is wrong, believe him. Try to help. Ignorance is not bliss; to ensure any chance of helping those who are suffering, we need to look for and listen to the signs.
He'll be fine..he's a good kid, gets good grades. It's just a faze. He doesn't need to see a doctor.
These were sentiments that David's* parents believed about their son. No one realized how bad things were in reality. David was waking up on a daily basis wishing he were dead, feeling worthless and unloved. His smile concealed a world of pain and depression.
When David told his mother how he was feeling, she replied that he should daven and things would be fine. When David's rebbe asked why he looked sad, and David tried to share his feelings, he heard that "it's a mitzvah to be happy." This was a tragic combination of a child in pain with the people in his life that he was asking for support not understanding or turning a blind eye to the severity of the situation.
David didn't seem to fit the profile. He came from a good home, had many friends and no known traumas. There were no circumstantial factors pointing to the cause of his depression; his illness was based on a biological and genetic predisposition that had nothing to do with how David's life seemed on the surface.
Sadly, David finally only received help when his parents found him unconscious with an empty bottle of sleeping pills on his night table. David was rushed to the hospital and had his stomach pumped. At this point, while shocked, David's parents realized that they needed assistance, and that's when they called Amudim.
Our case manager gave them information on the causes of depression and treatment. He referred David to a psychiatrist and therapist and also sent his parents to a support group. It was a long and difficult road; it took time for David to recover and feel capable of living a normal and happy life. Amudim was there at every step, ensuring that both David and his family got the help they needed.
Now, David's smile is real, a sign that he is content and moving towards a healthy future.
If you or someone you know is struggling, please don't hesitate to call. Amudim is here and ready to help.
*Names and details have been changed for privacy purposes.
Week Ending November 17, 2022
128 New Matters Addressed This Week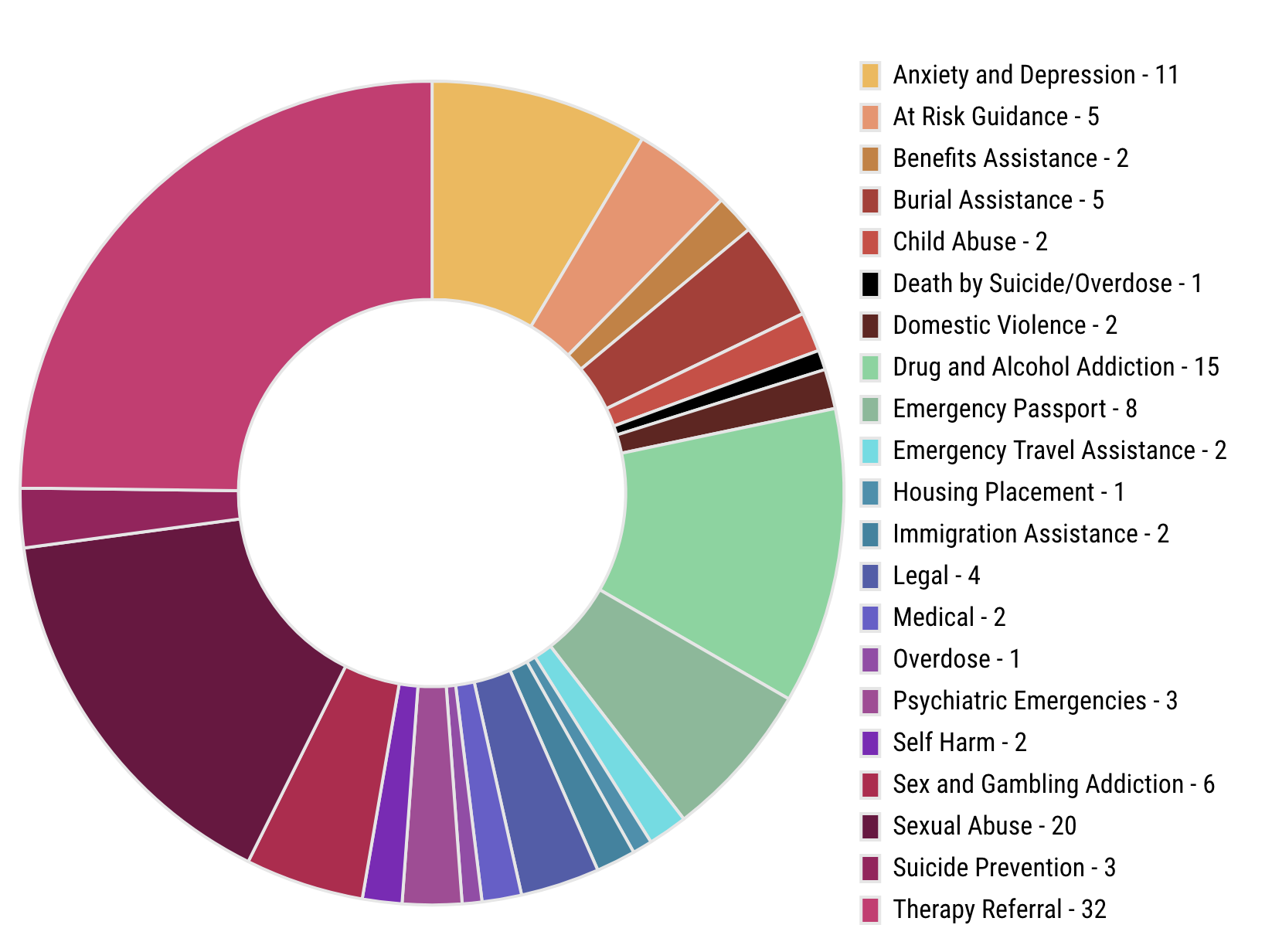 Each week, Amudim fields calls covering a wide range of crises and addressing various human concerns, including addiction, depression, abuse, health and domestic emergencies and many others. We track the calls and breakdown of issues for many reasons, foremost of which is to consistently improve and strengthen our knowledge and ability to address community's needs.
Tens of thousands of Americans die every year from opiate related overdoses, a number that continues to increase annually.
Education, training, and accessibility to Narcan has and can save lives.
Amudim offers FREE Naloxone (Narcan) Training and Distribution.
Learn More at amudim.org/narcan
#Narcan #narcantrainingsaveslives #addiction #recovery #savelives #naloxone #free #freetraining #gethelp #drugs #overdose
FOLLOW US ON SOCIAL MEDIA